What records are important to keep for your pet? Most of us have asked ourselves that question before. The answer may surprise you. We know pet records for vaccinations are important but what else?
Tracking More Than Your Vet Pet Records
It's true, your veterinarian will keep the records of your pet's visits. The annual check-up, the vaccinations given and any time you needed to visit for other health conditions. So why should you even bother keeping those pet records? For good reason actually.
What if you have an emergency situation on a Sunday and your vet's office is closed? You go to a different place for that emergency treatment of your pet. They don't know what previous treatments or health care you pet had. You need to be able to tell them. And the faster the better.
Changing vets for any reason at all. Yes, your current vet will ship all your pet's records to the new vet, but while the records are in transit, or even get lost in transit, you have something to show the new veterinarian.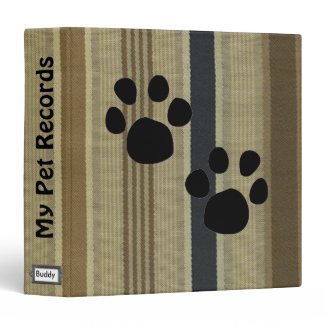 Striped pet records binder
by
DizzyDebbie
Available from Zazzle
Click for Details
Keeping Your Pet' s Records Together in a Binder
Without a doubt, keeping all your pet's records together in one place is the best option. But more than that, you want to keep them in a place where you can grab them easily. When I switched from a file folder to a binder I was much happier. The binder was easier to grab in a hurry when I needed it. But, it was also easier to record information I needed and wanted to record.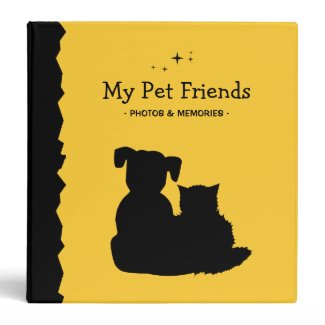 Cat and Dog Pets binder
by
BluePlanet
Available from Zazzle
Click for Details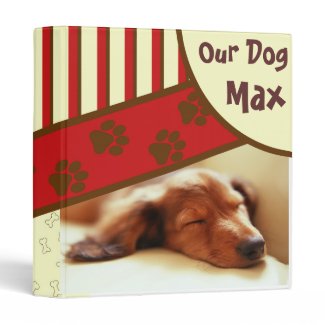 Pet Photo Album 3 Ring Binder
by
redladybug87
Available from Zazzle
Click for Details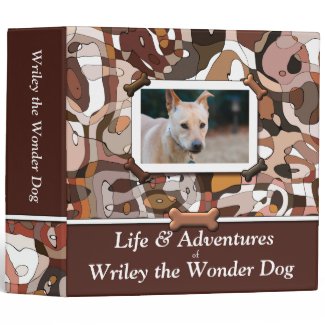 Wonder Dog Custom Photo Book (2″) Binder
by
Woodswalker
Available from Zazzle
Click for Details
What Records to Keep and What to Record on Your Own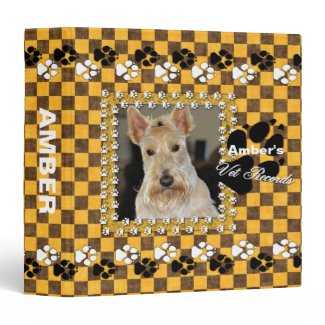 Pet Records Yellow Checkerboard Vinyl Binder
by
FrankzPawPrintz
Available from Zazzle
Click for Details
Now that I use a binder, my records are much more complete. The copies of the vet visits get 3-holed punched and added in. But I also include extra paper to write things down. Record the brand of food you give your pet. Not just the company name, but also the specifics of that brand. If you can, cut out the label and the codes that are put on the package of food. Pet food recall is a real issue and the more you record and track about your pet's food, the more it will help you save your pet.
Keep track of any change in your pet's behavior and eating habits. Most especially if you change brand of food or even treats. Know exactly when your pet started to become listless, slowed or stopped eating.  You can tell your vet if something has happened to your pet. Even if your pet returned to normal before a vet visit, you want to keep this recorded. You would be surprised at how often that may be needed in the future. Help your vet help your pet with good information and good pet records.